Backstreet Boys
As Artist/Band of the Month!
You choose the Backstreet Boys as the artist/band of the month! For all who voted for them will receive a pic within the next couple of weeks! Here we will list a few tru-facts on the group, with pics, lyrics, and a chance to buy their newest album- Millenium!
Tru-Facts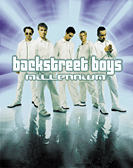 Buy Millenium!
CDnow || Amazon.com || CDuniverse
Don't forget to check out their official website at http://www.backstreetboys.com!
Also, please take the time to vote for this next month's Artist/Band of the Month! Your vote will be very much appreciated! Just click here!
Thank you!
Copyright © January 1999
TruEntertainment